All baseball gloves are not created equally. Middle infielders need a different glove than outfielders. The first baseman and the catcher each have their own mitts to pick from, and outfielders would definitely struggle using a glove made for middle infielders. Finding the best baseball glove for your position is an important part of playing the game, and it's something that all serious ball players need to do if they want to ensure they're set up for success.
Best Baseball Gloves for 2020
When it comes to baseball gloves, each player tends to have a certain preference. There's no right or wrong answer when it comes to choosing your glove, but the following list should help you when the time comes to up your glove game in preparation for next season:
---
Position: Outfield
Size: 12.75"
Why We Love It
Wilson is widely known for making one of the best baseball gloves in the sport. The Wilson Pro Stock leather combined with the Super Skin makes this one of the most durable outfield gloves, all while remaining extremely light.
The A2000 1799 Super Skin features a dual post web, ideal for an outfielder's ability to shield the sun while still maintaining visibility of fly balls. Wilson's dual welting, featured on the backside of the glove, helps maintain the glove's proper shape throughout the glove's life. The deep pocket on this Wilson A2000 helps outfielders secure balls in the air and on the ground.
If you are a competitive outfielder looking for a durable, light glove, take a look at the Wilson 2019 A2000 1799 Super Skin 12.75" Baseball Glove.
---
Position: Infield
Size: 11.25"
Why We Love It
One of the most well-known gloves around the world is the A2000®. This model is a popular choice for middle infielders and third basemen, and is ideal for players who field multiple positions. The glove has a shallower pocket than many other models, and when broken in, it has a flattened, yet flared, shape.
The A2000® 1788 was designed with an H web, and Wilson® has done everything in their power to give players of all ages a glove that can help be the difference between 2 and 12 errors in a season.
If you've seen any of the baseball glove reviews on the A2000®, you've probably noticed this glove is highly durable yet quite light. Wilson was able to achieve this dynamic by using their rugged, yet luxurious Pro Stock leather. These materials make for an all-around comfortable glove without sacrificing anything in the quality arena.
---
Position: Infield
Size: 11.75"
Why We Love It
Under Armour has broken into the glove game in a major way. The Under Armour Flawless Series Gloves are built with the top 5% of Japanese Tanned Steer Hide. A single post web coupled with a size of 11.75" makes this a very versatile glove that can be used at any spot on the infield.
A world-class Pittards palm lining enhances feel of the glove and helps create one of the most comfortable gloves on the market. Rolled leather welting helps sure up the structure of the glove and ensures an extended life for the glove.
The Under Armour Flawless UAFGFL-1175SP 11.75" Baseball Glove is a great option for an infielder looking for a comfortable, durable ball glove that will last for years.
---
Position: Pitcher
Size: 12"
Why We Love It
Nokona is known for their high-quality fielding gloves regardless of which position you play. With the X2 Elite, pitchers get a glove made of Nokona's proprietary top grain Stampede Steerhide and Kangaroo leathers.
While the X2 Elite is ideal for pitchers, this glove is extremely durable and can be used in the infield and outfield. The X2 Elite baseball glove is made with one of the most durable materials in the world, kangaroo leather that requires minimal break-in.
This glove has a closed web which allows for the pitcher to easily hide the ball on the mound from opposing hitters. If you are a competitive pitcher looking for a versatile glove that can be used at any position, the Nokona X2 Elite 12" Baseball Glove might be for you.
---
Position: Catcher
Size: 33.5"
Why We Love It
Being a catcher is arguably one of the toughest positions in sports. You must have an intrinsic and almost instinctual knowledgeable of the game and know the opposing lineup inside and out, so the last thing you want to have to worry about is your gear. The dedication to materials and craftsmanship help earn the CM3000SBT high praise in this baseball glove review.
Breaking in your glove is important no matter what position you play, but for catchers, it's even that much more important. The All-Star Pro Elite is known for how quickly it can be broken in, not to mention it has a reputation for durability. It forms to your hand, and many catchers say it's the best mitt they've ever used.
This glove is made of exclusive Japanese leather, allowing for a faster break in. It features the best materials and incredible craftsmanship. After just a single game of use, it's easy to see how well this glove is made. The All-Star Pro Elite 33.5" is the gold standard for catcher's mitts.
---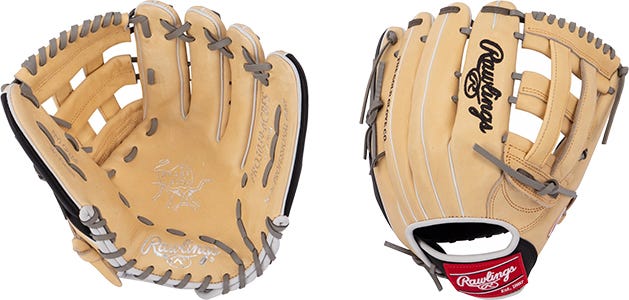 Position: Outfield
Size: 12.75"
Why We Love It
The Rawlings Heart of the Hide series of ball gloves continues to be one of the best gloves for the price. Apart from the Rawlings PRO3039-6CBFS being a great looking glove, it features Rawlings Finger Shift technology to make it a more comfortable and effective outfield glove.
This glove is built with the top 5% of all steer hides and top grade lace to help create an extremely comfortable, yet tough glove. The Rawlings Pro-H Web is the ideal web for any outfielder as it provides a deep pocket and space to see through the web while blocking the sun.
If you are in the market for a top baseball glove for a reasonable price, take a look at the Rawlings PRO3039-6CBFS Heart of the Hide 12.75" Finger Shift Baseball Glove.
---
Position: First Base
Size: 12"
Why We Love It
Wilson is famous for making durable ball gloves that break-in quickly all while keeping the weight down. The Wilson 2019 A2000 2800 12" Baseball First Base Mitt is no exception as it is one of the lightest, best-shaped, and sharpest looking first base mitts on the market.
As Wilson's number one first baseman model, the A2000 2800 features an innovative pocket design with dual break points near the thumb and heel to help create the optimal break-in. A reinforced single post web creates a deep pocket to help secure every throw, good or bad, over at first base.
Any first baseman looking for a high-caliber mitt that is lightweight and sure to last years, the Wilson 2019 A2000 2800 12" First Base Mitt will not disappoint.
---
Are Gloves for Specific Positions Necessary?
Gloves for specific positions are necessary for most players. While an outfielder can use a glove made for a pitcher, and a pitcher technically can do the same, gloves made for first basemen and catchers can't be used elsewhere. If you're a player who bounces between the infield and outfield, you would need to find a glove that gives you the best of both worlds.
Components of a Baseball Glove
The components of a baseball glove are pretty complex. Gloves are not just a single piece of leather. A baseball glove is made up of different parts, including the web, fingers, heel, palm and more. Together these components make up the different reasons that make some gloves better than others.
Styles of Baseball Gloves
Baseball gloves come in all styles, shapes and sizes. If a glove is made for a certain position, then a lot of time and effort was put into its design to give players all the tools they need to succeed.