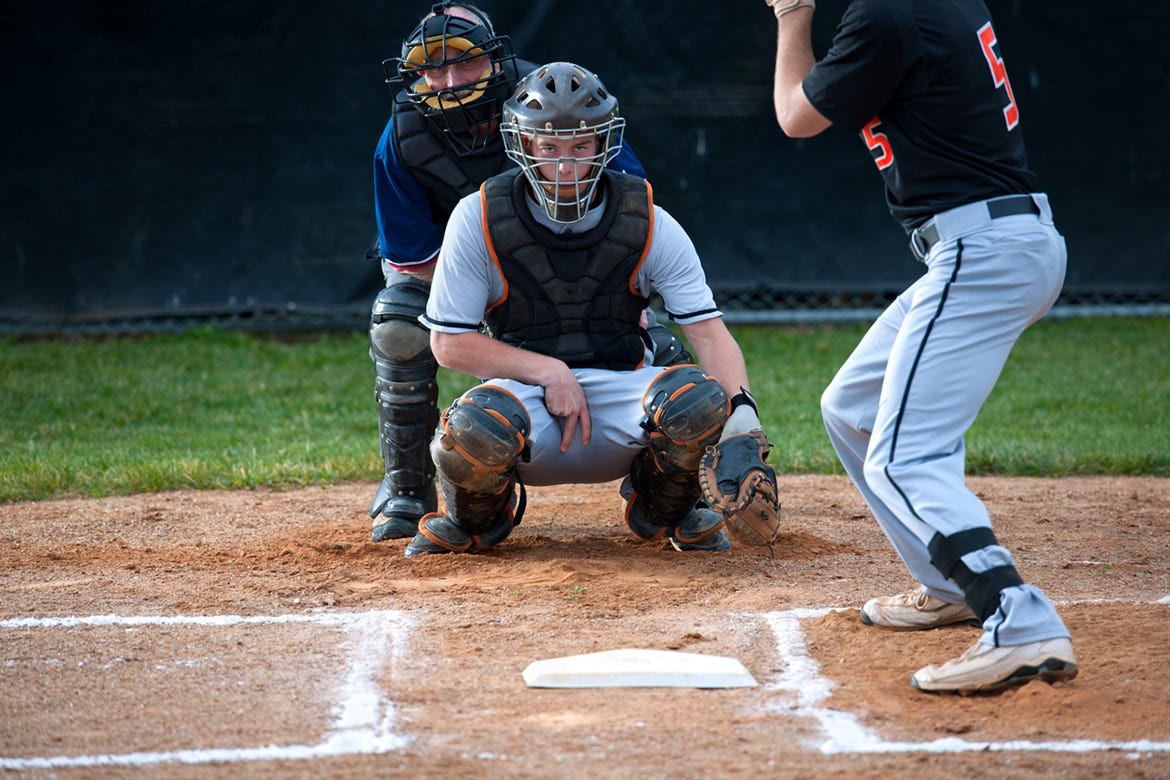 A major part of any baseball team's success depends on how well they communicate on the field without actually giving away what they're saying. Most of this silent communication comes from the catcher. As the player behind the plate, the catcher has the unique ability to see the entire field. This means a good catcher can give signals to a pitcher, indicating which pitch to throw and where to throw it. Good catcher-pitcher chemistry is often the winning combo a team needs to walk off the field victors.
In this article we'll dive into catchers' signs and the importance of silent communication on the field. We'll cover things like:
What are Catcher Signals?
As Hall of Fame catcher Yogi Berra once famously said, "Baseball is 90 percent mental and the other half is physical." Known for "Yogi-isms" like this one, Berra was really on point here. He means that a lot of thought goes into playing baseball. And he's right. But it's possible that no one thinks more than the catcher. Before every pitch, while crouching, the catcher will quickly assess the player at bat, the location of any players on base, the inning, the score and who the next batter up will be, then lower his or her right hand between the thighs and show any number of fingers so only the pitcher can see. It's this simple, quick motion that tells the pitcher what to do next. This form of communication, sent as pitch signals, is imperative to every pitch in a game.
Catcher-Pitcher Signs (by pitch type)
The catcher's primary job is to communicate with the pitcher before each pitch is thrown. This simple action serves two functions. First, the catcher and pitcher (also known as a "battery") must choose the pitch they think will be most effective. They base this on a number of things, including a hitter's tendencies, strengths and known weaknesses, as well as the pitcher's own ability to execute a pitch. Second, the catcher has to know what pitch is coming, or else risk the ball flying right past or striking him or her or the umpire.
One Finger = Fastball
Two Fingers = Curveball
Three Fingers = Slider
Four Fingers = Changeup
Virtually any catcher you ask will tell you that one finger down means fastball. It's the first pitch any pitcher learns, and it's the most basic. Depending on what secondary pitches a pitcher throws, fingers two through four can vary, but for our purposes, two will be curveball, three will be slider and four will be changeup.
Catcher-Pitcher Signs (by location)
Another aspect to catcher pitching signs is choosing the location of the pitch. There are two ways to do this. The first is by giving the sign for a pitch and tilting your hand toward the side of the plate you want the pitch to go toward. Meant to be more secretive, the other way involves assigning a number to an outside pitch (away from the batter) and an inside pitch (close to the batter). So, if a catcher wants an inside fastball, he or she could flash one finger followed immediately by two fingers.
Catcher-Pitcher Signal Chart
Catcher signs are quick and deliberate. They are another language that both catcher and pitcher are fluent in. Below is an example of the types of combinations that are often suggested through various catcher hand signals.
| Pitch Type | Pitch Location | Catcher Signal |
| --- | --- | --- |
| Fastball | Outside | 1, 1 |
| Fastball | Inside | 1, 2 |
| Curveball | Outside | 2, 3 |
| Curveball | Inside | 2, 4 |
| Slider | Outside | 3, 1 |
| Slider | Inside | 3, 2 |
| Changeup | Outside | 4, 3 |
| Changeup | Inside | 4, 4 |
Alternative Methods to Calling Signs
Sometimes, the catcher must resort to alternative methods for calling pitches. This can happen, for example, if the pitcher is having trouble viewing the signs due to poor vision, bad weather or lack of lighting in a night game. In these instances, a common backup plan is for catchers to use the torso and head as a stand-in for finger signals. Catchers also may use different parts of their equipment -- such as their mask -- to signal a throw. While simpler, these methods are much easier for an opposing team to figure out, since they can't be hidden between the catcher's thighs.
Changing Signs with a Runner on 2nd
Once a base runner reaches second base, the catcher and pitcher will then use a more complex series of signals because at this point, the runner will have a clear view of the catcher's hand. In this scenario, the catcher will randomize multiple signs and locations, one after another, with the understanding that only the pitcher knows to look for the signal given in an agreed-upon order (for example, the second signal may be the correct one and the others are decoys). This is where communication is essential, because if a pitcher is wrong about which signal to use, the pitch could get away from the catcher, giving runners the opportunity to advance.
Other Catcher Signals
Catchers don't just communicate with the pitcher on which pitch to throw. They also call for things like a pitcher to pitch-out, pickoff, hold a runner, shake off the pitch or step off the mound.
Pitch-out: A pitch-out is a pitch thrown chest-high and outside the strike zone, opposite the batter, which puts the catcher in an optimal position to try and throw out a runner who is trying to steal a base.
Pickoff: A pickoff is when a pitcher quickly steps off the pitching rubber to throw the ball to a player covering a base, who then must tag a runner before they get back to the base.
Hold runner: Catcher signs that signal to hold a runner are the same as the pickoff, but without actually throwing to the base.
Shake off pitch: Sometimes a catcher will tell the pitcher to intentionally shake his or her head at a certain pitch in an attempt to confuse the batter.
Tips for Catcher Signals
Catcher signals are one of the most important parts of a baseball game. They should never be underestimated. Looking for ways to improve your game? Here are some tips for aspiring catchers who want to call the most effective game they can.
Nail polish/white tape: Either painting your nails a bright color or wrapping white tape around the tips of your fingers can help your pitcher see your fingers. It's important that your pitcher can clearly see your fingers to communicate specific signs and what they mean.
Protect your signs: Remember to hold your hand in between your thighs and close to your body, because the pitcher is the only person on the field who should be able to see your catcher signs.
Disguise your signs: The other team is always trying to see your signs and figure out what they mean. Any time you think your signs are vulnerable, call a timeout and talk to your coach and pitcher about changing them or using one of the alternative methods we discussed earlier.
Easy to remember: Signals should be simple for you and your teammates to remember, but difficult for the other team to pick up. If you're constantly clarifying what your signals mean, it's probably time to simplify things.
A good catcher is adept at assessing many aspects of the game in an instant, making a split-second decision on the best pitch that should come next, and then conveying that message by way of a signal to his or her pitcher. This is by no means an easy task, but when executed well, it can be the winning ticket.